Fiji are getting a helping hand for the World Cup by a former Irish referee
WITH AUSTRALIA, WALES and England all in the same pool, it's likely that Fiji will be most Irish people's second team for the World Cup.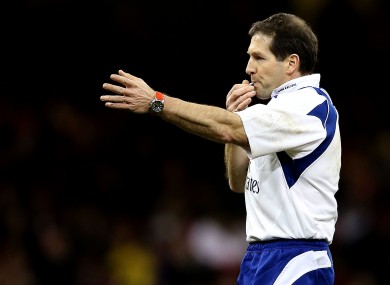 And it looks like Alain Rolland will also be rooting for them, after Fiji's head coach John McKee confirmed he's been giving them a helping hand in recent months, as they look to cut back on their penalty count.
McKee said that he sought the advice of Rolland during their Pacific Nations Cup title during the summer, and the results have been so good, he was brought back in to help prepare for their final warm-up game against Canada last week, as well as next Friday's World Cup opener against England at Twickenham.
"At this level a high penalty count can be very costly," said McKee.
"In the Canada game our penalty count was only seven which was a significant decrease from what we had before.
"It's just one of many things that we do to make sure that players are very clear in the requirements of the game."
Rolland was with the Fijians during their training session in Surrey on Friday.
source: http://www.the42.ie/alain-rolland-fiji-2328381-Sep2015/