Alain's strengths lie in the development of tactical awareness and deeper understanding as to the role of individuals , tactics to further prevent players from giving away too many penalties. He advises tactics and for  improving core skills or practicing more advanced techniques on and off the pitch to  improve overall sking and keeping core skills dynamic.
Both players and referees by observing individual players, units and the team – what they are good at – what do they do well what do they do poorly.
How to compete and improve the scrum and lineout and  ruck strategies.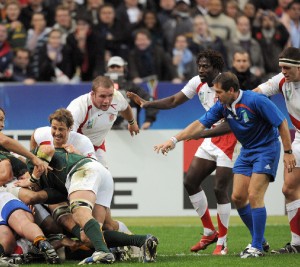 In his role as a referee consultant, Alain is striving to meet the needs of rugby referees, teams, unions and coaches to help them confront the all challenges, to be better communicators with players and officials, to eliminate unforced errors and manage their way through the high pressures of a game.
His expertise and communication skills will help enormously in developing the next generation of elite referees. Alain's commitment and ability serve as a real example to all those aspiring to referee at the highest level.
Given his extensive international referee experience at the highest level Alain has already taken on the role of one to one mentoring. This has successfully provided new insights, uncovered issues and problem solving and identified areas for improvement to aspiring referees.
 JRFU – Japan Rugby Football Union
Alain has just been contracted to attend 8 matches in December and to execute coaching reports on each of the referees. This will progress to the next stage in developing a plan to work with referees and develop with them similar to the work with the FIR.
Contract work with the FIR – Italian Rugby
Alain Rolland's role is to assist with the development of a number of referees. Alain works with the elite referees as a coach and mentor while once a month he carries a workshop to the academy referees. Areas identified for improvement include Tackle/Ruck/Maul/Scrum/Lineout/Kicks/General play/Foul Play
Alain's role includes the following:
Regularly attending and review of their matches
Preparation and submission of coaching report which would be distributed and discussed prior to the following match.
Delivery of regular presentations to the group including statistics, positional data, law matters, significant events where relevant
Ongoing work with the strength and conditioning coach to devise the appropriate training regime and dietary requirements
Provide guidance and advice to referees and set out a specific plan with each one to achieve the goal of increasing the number of Italian referees in the Guinness Pro12
Quality of the performance is highlighted at the level of game observed and help focus the referee for future matches or to re-assess goals.
WR – World Rugby
Alain has been contracted to work with the Tier 2 teams up to and during the RWC and also looks after the TMO protocol.
Tier 2 teams – USA, Canada, Romania, Uruguay, Japan, Tonga, Fiji, Samoa, Georgia, Namibia. Alain has been in camp with all 10 teams at different stages over the past 16 months. The duration of each camp would be 3 to 4 days and then 2 to 3 days during the RWC.
Alain's role is to assist the teams with the interpretations of the referees in the 5 key areas.
1 – Foul Play
2 – Scrum
3 – Tackle Area
4 – Lineout-Maul
5 – Space / Offside
The overall objective is to assist them to reduce the number of unforced errors, which in turn will reduce the number of penalty kick, which will in turn reduce the number of points they concede.
Through presentations with a number of clips in each of these areas clearly shows the images and playbacks that the referees wants and doesn't want to see.
During team training Alain assists the coaches in refereeing certain areas of concern so that any actions can be highlighted that would not be acceptable to the referee. Drills are monitored and techniques highlighted that would not be acceptable to the referee.
These training sessions are recorded so after training a review is carried out with the team to highlight areas that need attention.
Matches played are reviewed and reports are provided to the coach which includes penalties conceded but also timings of actions that should also have been penalised.